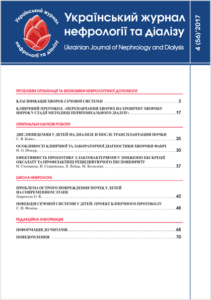 "Ukrainian Journal of Nephrology and Dialysis" – the first and only domestic periodical publication, which is devoted to practical and experimental nephrology and associated disciplines (urology, biochemistry, immunology, pathomorphology, microbiology, etc.). On pages of our journal publications of leading experts from different countries, and young scientists are presented. In addition, special attention is paid to discussion of medical and technical documents (clinical guidelines, medical standards and standardized protocols) that contribute to the standardization of specialized medical care to patients of nephrology profile on the principles of evidence-based medicine.
The journal is a list of publications HCC of Ukraine and is designed for professionals in these fields, university professors and researchers.
Our journal has an open free online access. According to the Budapest Open Access Initiative (Budapest Open Access Initiative – BOAI) users may to read, download, copy, distribute, print, search, or link to the full texts of the articles in the journal without asking prior permission. However, for reproduction, distribution and citation of publications from "Ukrainian Journal of Nephrology and Dialysis" referring to the name of the author / authors is necessary.